Collectors Spotlight - October 2012 - O

Age: 32 / O
O: O O
---
I started collecting Oakley after I discovered the o-review (2005). I had a few pairs previous, but never really what I would call a "collection".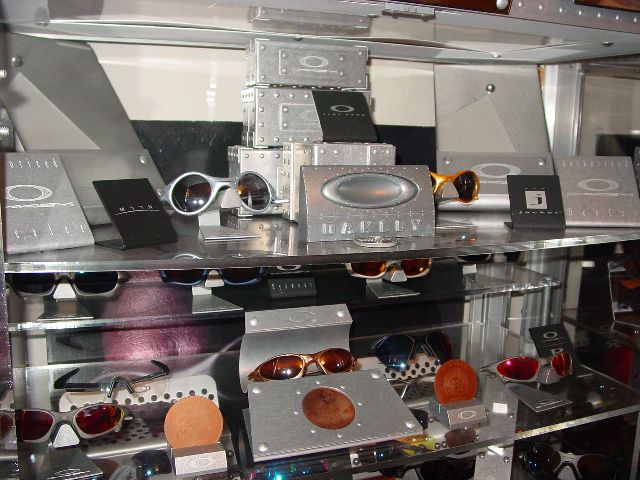 Ties into my double team story. I remember after seeing this movie I wanted some "cool" sunglasses. I was at a scheels all sports and I remember looking at various brands and not really seeing anything that peaked my interest. I had heard of Oakley before but never really seen much from them as not many people even had them back then. As I made my way around the store, I saw this single metal tower with a single pair on one of the shelves. It was one of the coolest pairs I had ever seen. I liked them because they didn't have any major logos and the color was just a bland gunmetal. The design was as if they were something industrial from the past or something from the future as Colin would say. They were x-metal Romeos. Of course my parents didn't allow me to spend 250$ on a pair of sunglasses, but my want continued. Having a dialup connection back then, I went to Oakley.com and saw a picture of their HQ. It was like this whole company read my mind and I am such a huge fan of this design language as a whole. It is like the style is as sleek as a lamborghini but with the ruggedness of an M1A1 tank. From the exotic materials to the bolts and rivets, no matter how many years go by, a lot of Oakley's designs are timeless and will always look amazing to me. I liked the fact that even though Oakley is a luxury brand, I have always liked them for their design, not their "luxury brand status". The collecting phase really started as soon as I discovered the o-review in 2005.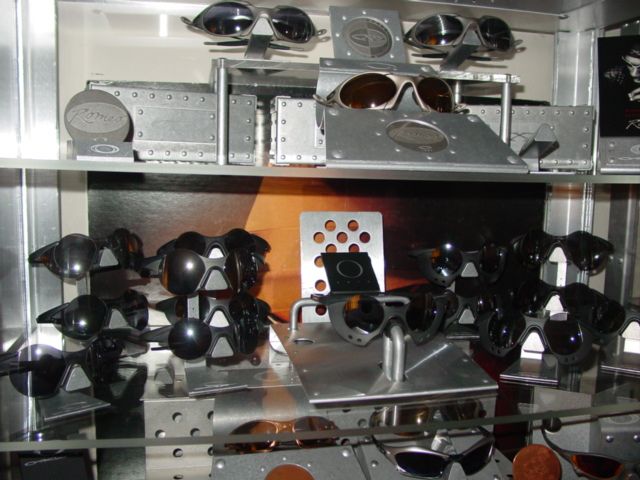 The same year I discovered romeos was the same year I got a pair of electric mustard eye jackets in 1997. That color stood out like a McLaren.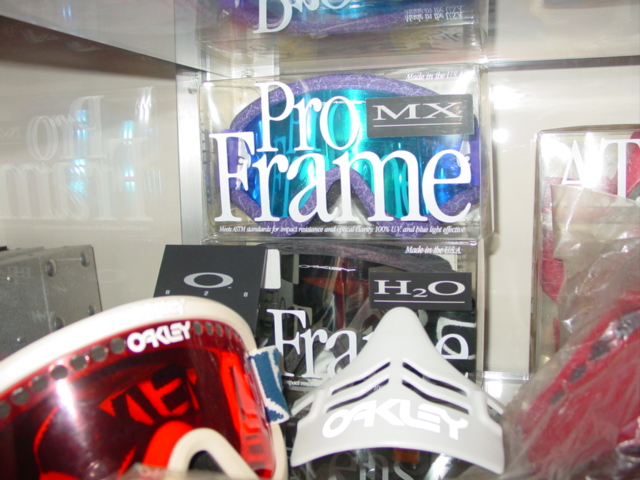 Two things to mention. Not a personal regret but disappointed when Mr. Jannard sold Oakley. I felt that he was a huge inspiration to the company and the one who really pushed the design limits.

The next is how this has really gotten flooded with reseller/scalpers. It is sad but also surprising how much we are willing to spend on a particular item. I have seen this in other collecting hobbies, but I would have never thought Oakley collecting would have been one of them to fall prey to resellers.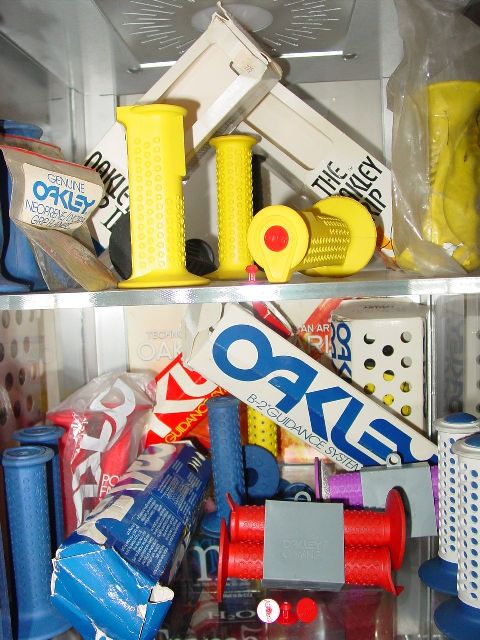 I can't say, I have found over the years that when it rains it pours. Sometimes I find a single display item that ends up turning to several display items and maybe a couple of pairs. I have been fortunate to have about every Oakley item that I have been after. It took me four years to finally find some display towers. If I see something unique, I go for it and not a big deal if I don't get it. As it stands now I am very pleased with everything I have and have slowed way down on the collecting phase.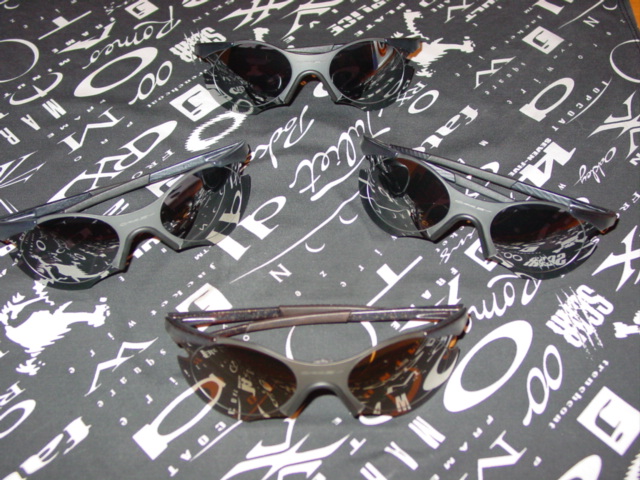 This is a difficult question, I have to many that are irreplaceable. I couldn't choose just one. Many parts of my collection took years to find, and I only buy things that I really want. Unfortunately, the pieces I really want are very difficult to find, let alone find at a decent price.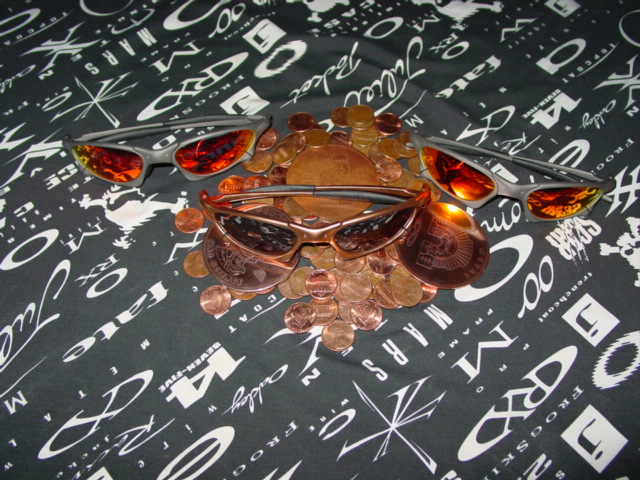 It took a few years, but I did find a few display cabinets! I have a few cubes, towers, and two doublewide towers that I keep everything in.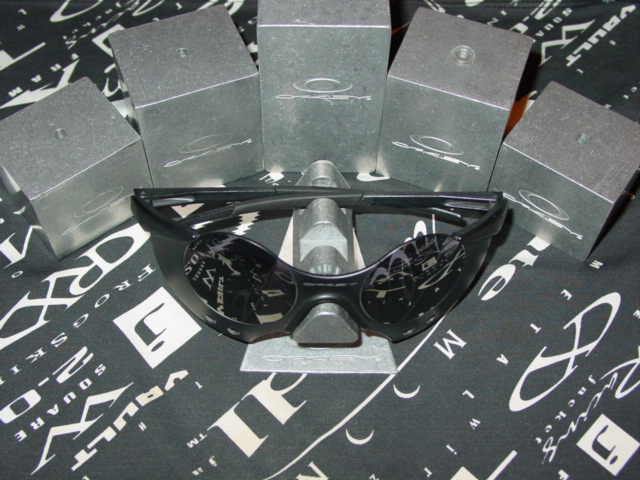 Oakley.com. I don't have and never had anything local to me or major hookups.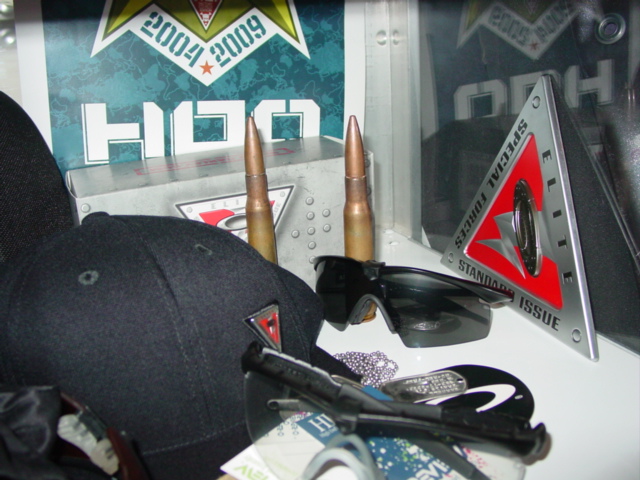 Never really wanted to try it, I felt that I would be defacing a masterpiece.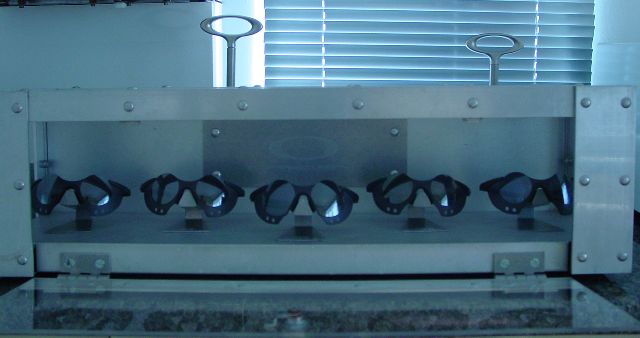 My main interest in my collection are the display pieces. I drifted toward display items after I found all of the glasses I was after. I don't have a huge collection of glasses. I have duplicates of the ones I really like (one to wear and one to stare). I loved how Oakley integrated their designs into their retail presentation. I get more thrills finding a rare display piece than I do finding rare glasses. I have always felt that some of the displays where much rarer simply because there are probably less of them produced than pairs of glasses. Also the fact that you can never walk into an Oakley vault and buy display items, it just made them that much more desirable for me.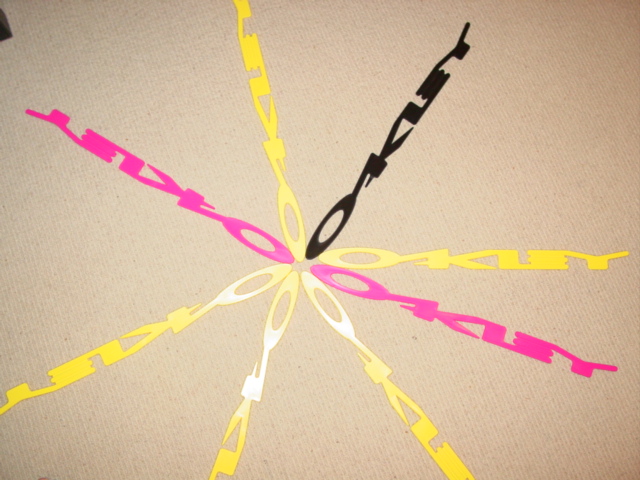 I use to be a big sneaker head. I have always like shoes ever since I was six years old. I have a respectable shoe collection but I don't really buy them anymore. Way to much hype in sneakers these days and the resellers are worse than Oakley scalpers.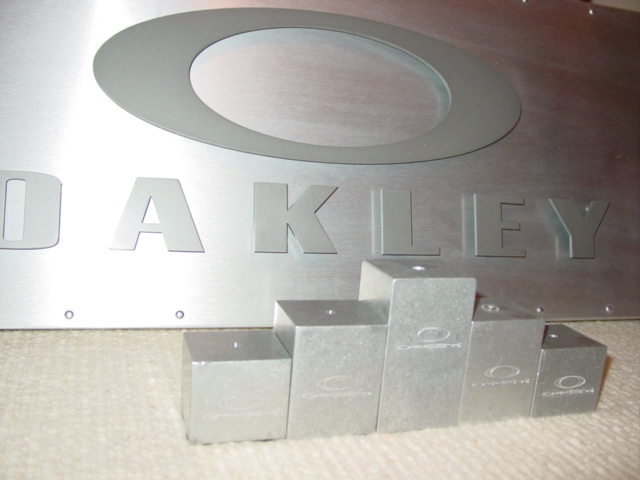 Avoid all of the hype of particular models. If you are going to collect Oakley, get what you like and take your time, not because of a said value. Try and avoid the scalper/resellers out there. I was one that had to pay the scalper prices for years because I had nothing local to me. When I first joined the o-review, I never would have imagined that I would have the collection that I do today. With enough time, you will find everything you want. As for the eBay market, it is difficult battleground since there are so many collectors and scalpers out there. With enough time and patience, you can find some great deals. Try not to power level your collection and empty your bank account..right away.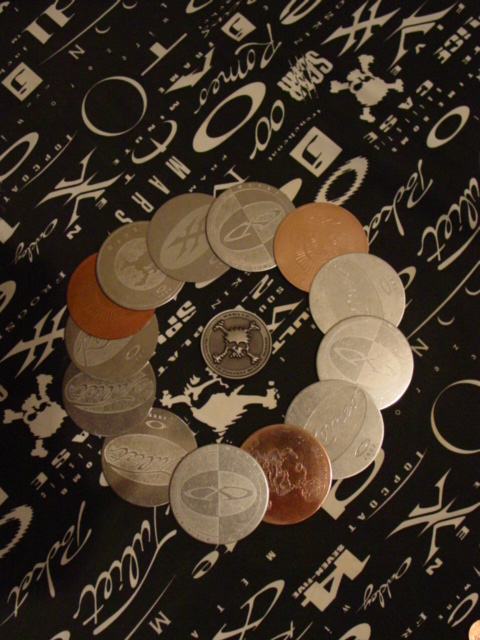 I get mixed reviews. Some think it's cool; others think it is a waste of time and money. I do it for me. It is art.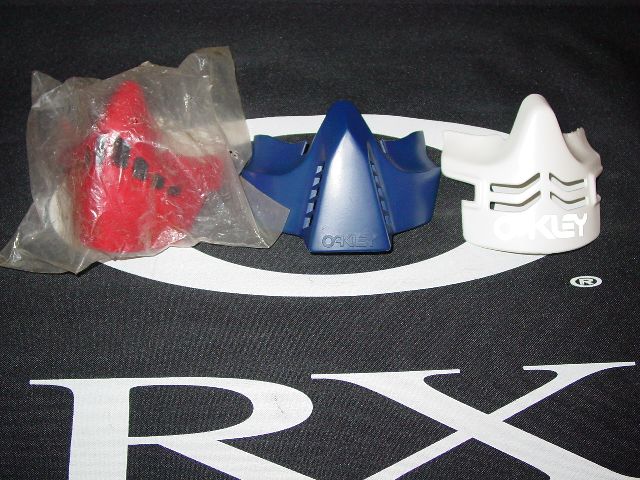 I have a few to mention. The main one was meeting all of the O fanatics that were on the same level and above my level of Oakley passion at the copilot event.
A couple of people to mention. Robert (rhlake) was the very first person on the review that I pm'ed and he was generous enough to sell me one of my grails. It was very cool to finally meet him after years of pm'ing. Another was Rey, (shoxpro). Another very cool guy to meet in person after years of talking with. Of course I have to mention Dann. Meeting the mastermind behind the O-review was a great memory. Another little story. During the copilot event, in my hotel room I had a large Oakley shopping bag that was filled with random Oakley shoes boxes, a couple of stickers, a block of wood, and stuff that the average person would consider as a garbage overflow bag. Well, room service cleaned my room when we were all out and they threw that bag away. I was pretty heartbroken. I was about ready to go dumpster diving to find it, no joke. The block of wood was given to us at the copilot event, it was a piece of the basketball court they use to have in the Mecca building. Michael Jordan and I'm sure a few other VIP's played on that court. I told what had happened to a few of the guys when we were all in the lobby waiting to head back to the airport. Dann just reached in his bag and handed me his block and said here. I am thankful to this day for that. If I wasn't for the o-review and its members, the copilot event probably wouldn't have existed, nor would I have been there. +1 to Mark Jackson for the copilot event, another great member.

Overall, just meeting all of the o-review members at that event was quite an experience. There are some really good people on this forum. Respect to all these guys, AtomicOrange35, billo88, Brandon, brennan2x, crmnjst, Dann, death-by-oakley, DisturbedEarth, djenks, dmasterson, DoctorCrip, eddyc, heglock, Hockey3393, ifynanceu, kingphilbert, lsquared, O, OAKLEYZ, oogie, O-Whores, rhlake, rich5150, Rick, Shavepimp, shoxpro, sledelen, tarponfly, TERRORISM, tonelam21, Trevor1976, ViceGrip, warwagon, XYZ Optic, YellowA4, whom I was able to meet. I had to list everyone, minus a couple of behind the scenes (you know who you are :).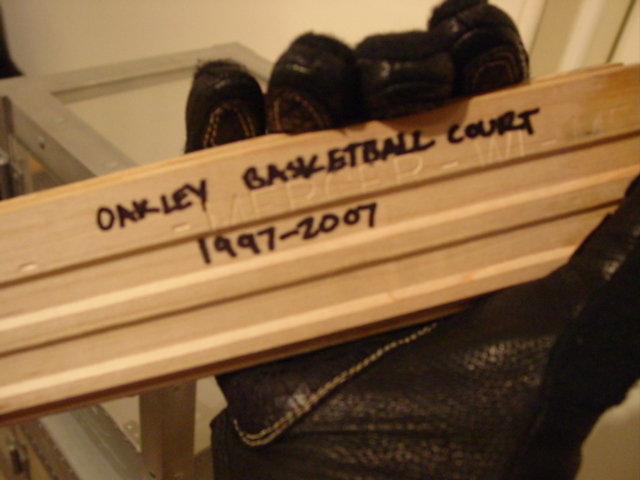 It has been an interesting hobby if you consider it a hobby. I don't take it for granted and I have been very fortunate for what I have. We all know it is quite expensive and things are difficult to acquire. Thanks to all of the members that I have not listed that I have pm'ed throughout the years. Such a great community here. Thanks for this opportunity Dann.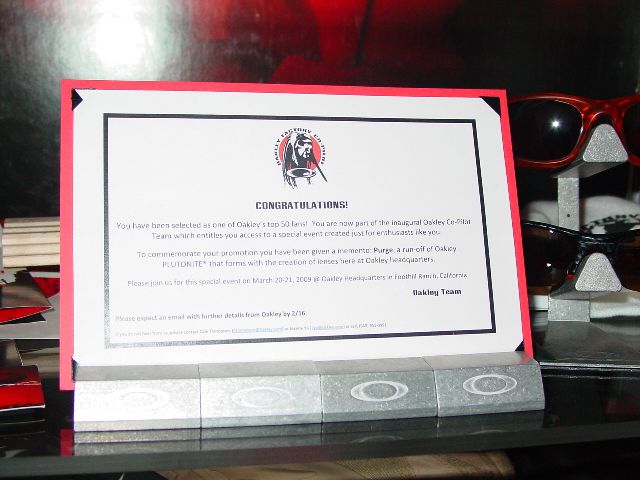 View O's Collection
View O's Gallery
View O's Profile