Collectors Spotlight - January 2010 - flippj

Age: 36 / UK
flippj: paul jewiss
---
Well, I have worn Oakley sunglasses and apparel for about 15 years but have only been a hardcore sunglasses collector since about 2002.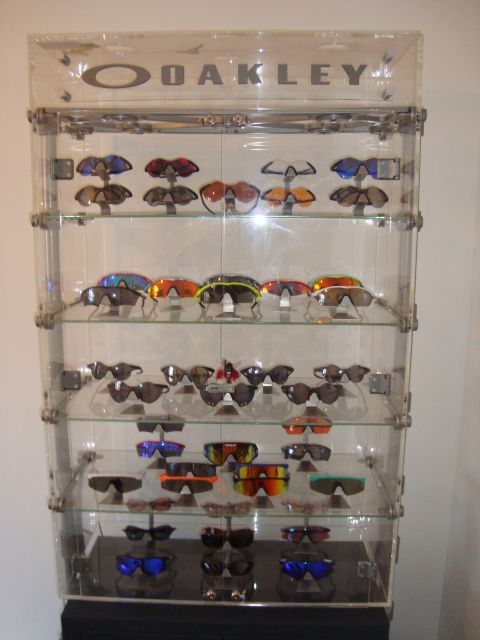 I first got into wearing Oakleys when I cycle raced at club level, like a lot of people I remember seeing not only Greg Lemond, but Phil Anderson and Andy Hampsten wearing them in the Tour de France.
It was Greg wearing the original neon yellow mumbos, I had to have a pair but couldn't afford them so soon after when on holiday in Spain I saw and purchased a pair of crystal black/black iridium razor blades…..soon after a pair of sub zero #1 followed, its then I guess the conveyor belt started. Oakleys were 'the' glasses to have in the cycling arena and were a sign of quality and whenever I wore them it made me feel like I was a better cyclist than I was.
As above , the crystal black/black iridium razor blade, sold a few years later, then a great member off the o-review sold me an exact same pair and I had to say yes for sentimental reasons!
Other than selling the first pair I ever bought due to a quick form of income I have no regrets Like a lot of members, I have had the chances to buy some great pieces but for one reason or another have said no or didn't have the money, but from a collectors point of view, I should have listened to my dad years ago when he said 'keep the boxes'- years later how I wished I had as these would really make my collection complete and unless I am really lucky, they are virtually impossible to find on the vintage pairs.
Well, I only tend to collect vintage pieces so I don't really have a 'next piece' as such to buy, I tend to see what becomes available or what I find and decide if I want it, modern pairs wise, I am trying to collect the dartboard range and the fives 3.0, but they always tend to take a back seat to vintage!
However, I do have a list of pairs I want to obtain to complete sets, but a lot of it is pot luck and trying to take the opportunity when it arises. You have to be very patient when what you want is not readily available to buy off the shelf no more.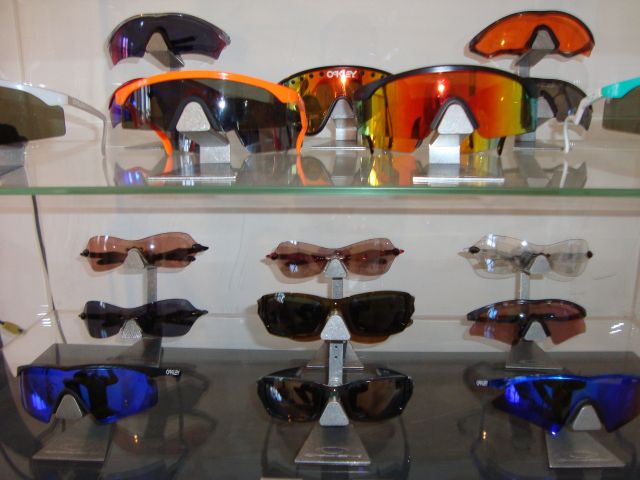 Well the jewel in my collection has to be my gen 1 m-frame crystal red/red iridium 'strip' lens. Purchased off eBay from someone who I am sure didn't quite know what it was they were selling and managed to get it! It's the rarest pair I own, in mint condition and I only know of Lee (banarno) that has this lens.
I also love my neon mumbos with 67 lens, m-frame splatters (just need the purple to complete the set), all of my zeros/sub zeros and my variety of 67 & hybrid lenses.
I started off with a counter top display, then got a hockey tower and a single tower, but I had more displays than stuff to put in them ha ha-so I sold them all and used the money to fund one tower and now I display my entire collection in a 3rd generation 'Frankenstein' double wide tower. I only have a collection of 50 pairs so it does the job well without looking cluttered, the cabinet is in my gym at home and when lit at night looks awesome…much to the eye rolling of the better half lol!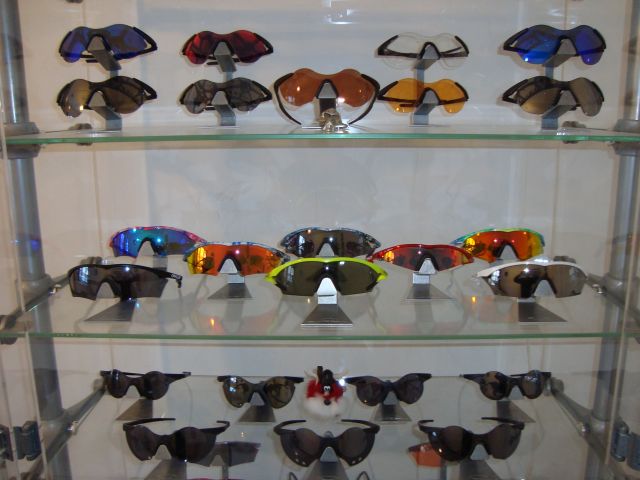 I do most of my searching/buying online so don't have a favourite retailer, however I do buy some apparel from a retailer called 10-80. Ian the owner is very helpful, has tried for years to try and convert me away from vintage to modern (without success!) and he always drops me a small discount when I am there. He even knows my girlfriend, parents and brother by sight when they go to purchase gifts for me!
I don't customize as I mainly collect vintage, so unless swopping around lenses and frames is customizing, I don't have the option!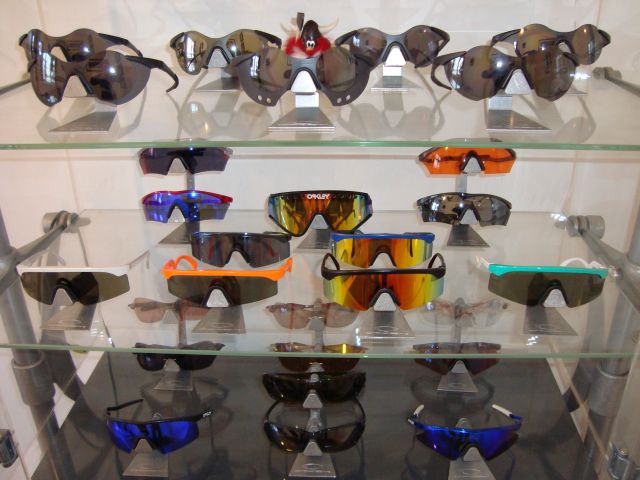 I collect some of the smaller items like belts, wallets, key rings etc but the other big one is clothing. Its all I wear. My friends have called me 'Oakley Man' for as long as I can remember. I wear Oakley clothing for work as I find the quality and durability is far superior than the police issue stuff, much to the disgust of the boss!
As well as working full time as a police medic trainer I also run my own personal training business, specializing in formula 1 drivers/teams and other motor sport related teams such as touring cars, world super bikes etc, so I have collected lots of autographs over the years. I also collect some Bruce Lee memorabilia and 1930's Clarice Cliff art deco pottery……(try not laugh), but was purely bought as an investment that will increase in value and at sometime in the future can be sold to fund other projects, ie oakleys!
But this aside, my main passion is my girlfriend, her 5 yr old son and my family-they come before anything and I would give up collecting in a flash for them should I have to. As I write this she is going through heart surgery for the second time in 5 years and you really appreciate what is important, as great as Oakley is, its not as great as her and her son.
My other passion is travel, due to working on the F1 circuit for so long, I am lucky enough to have been to over 50 countries and experience many cultures and ways of life, this I think is better than any education in life and really teaches you what is important-people not possessions.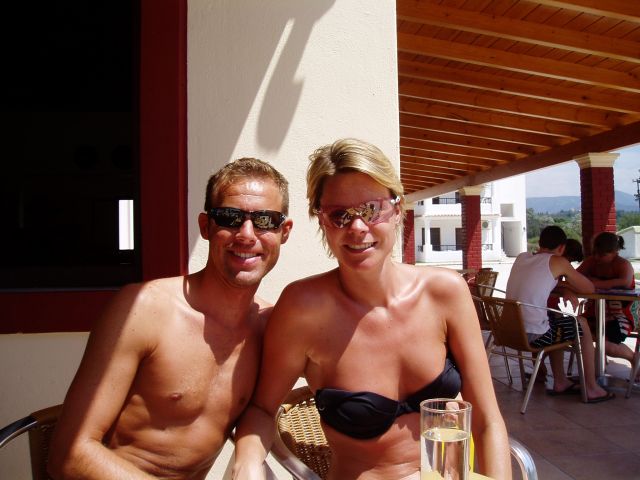 Well I would give the same advice I have been given over the years, collect what you want and not what you think others want you to have. This year I got my first pair of juliets and as lovely as they are, they don't do anything for me like the vintage stuff does. There is something about that original logo, the crystal frames and the old school lenses-that's what makes me tick.
I don't have a big collection, so its not about whether you have 500 pairs or 50 pairs, its all about what makes you happy. For 7 years of collecting, 50 pairs is not a lot but I often buy a pair and sell one so I can constantly improve on the quality of my collection. I was reluctant about submitting for this as there are members with far more diverse collections than me, but several members have persuaded me otherwise! I try to focus on collecting quality pieces rather than quantity.
Well everyone takes the biscuit, but only in a funny way, I think they are impressed that I spend so much time researching and collecting things which cost collectively a lot of money, but every visitor to the home always has a look at my display. I have also converted my girlfriend, brother and dad to wearing Oakley so cant be all that bad! Dad wears some gen 1 minutes cobalt/+red iridium, brother some c-wires and the girlfriend some dartboard L pearl/pink iridium.
Last year my girlfriend bought me a pair of fives 3.0 polarized, I was gob smacked as she was the first person who had ever purchased a pair of oakleys for me!
Some people collect DVD's, some collect stamps, I collect sunglasses!
When I had in my hand my first pair of oakleys after begging my parents for them for so long!
It's a privilege to be selected for this spotlight after being a member for such a short period of time. I don't post very often but peruse the sight every day. I have dealt with several members for advice/purchases or sourcing pairs. I must pay particular thanks to banarno for his on going advice on vintage items, and other members for purchasing items on my behalf overseas, such as terrorism, dwcfastrice, bigcob, osmosisjones, its members like you that have made my collection what it is today-so thank you!
View Paul's Collection
View Paul's Gallery
View Paul's Profile