Collectors Spotlight - May 2007 - Dann

Age: 32 / MA
Dann: Dann Thombs
---
Since Summer 2002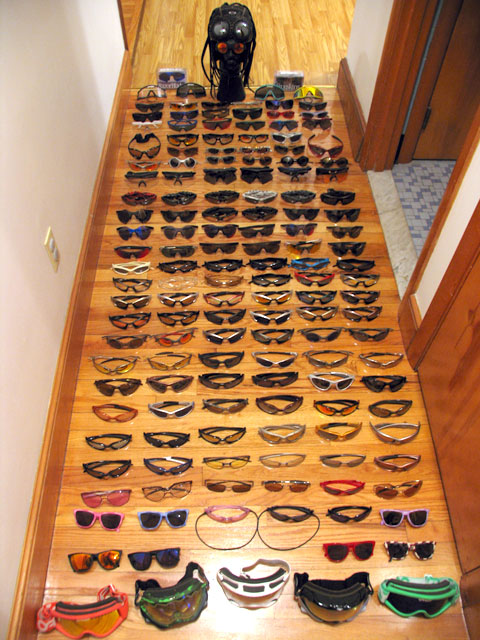 Around Summer 2002, I was spending money on nothing but bills for school and who knows what. My brother had just gotten Scars, to which my impression was "that's really dumb to spend all that money on sunglasses", but then I tried them on and really noticed the difference in quality. I'd never seen a lens be so clear before. My comment was Everything looks like the Autolevel function in Photoshop. What a nerd I am sometimes. At that point the Splice came out and my brother wished he had waited and gotten that instead. So one day when I was at a cookout playing hooky from work, the one shred of champagne taste that I had kicked in and I decided to get a pair.

After that, I got a pair of minutes, but they were too girly and didn't look like the online picture, so I give those to my sister and then got a pair of leather Mars, since they were so odd. That lead to a pair of 24k X-Metal XX's, and a Time Bomb. The on and on and one. Once the site took off, it was all over. I think I had a dozen or so when that happened.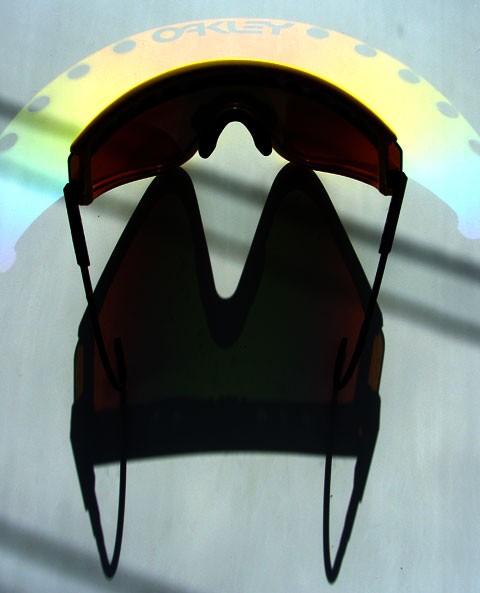 Splice, Crystal Black-FMJ+ / Ice

I've taken a liking to the Splice from day one, and have dedicated a bit of time to collecting each pair and also doing customs.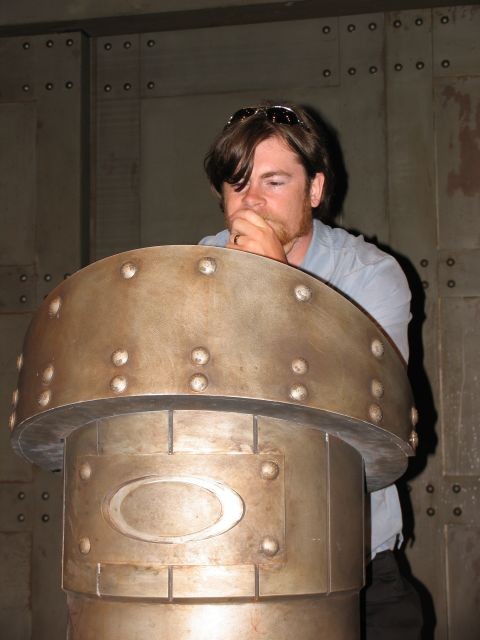 I was told about a Red Tiger Racing Jacket on eBay. I watched it for days and put in a bid at the last minute. Some other people had the same idea and inflated it to an insane amount. The next week someone found both the Bengal and Red Tiger RJ's at a vault for $35 new in box. I was crushed. I was pressured, you know who you are!

I also saw a Black Leather Mars on eBay and the Emerald ones were showing up for a while too. But then I didn't know enough to tell the difference, so I ended up passing on them. Course now they're highly sought after. And anything that was on eBay before the site I regret not getting, since everything going for huge prices now.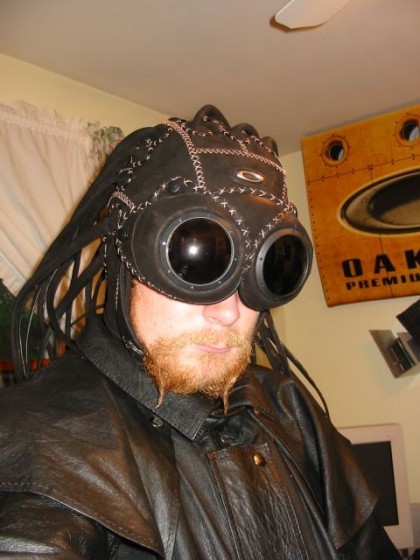 I'm really not sure. I've seemed to hit a blank and also need to get some bills under control. I do need to get a few more Splice's for some customs that remain unfinished.

Some of the new models coming out are looking nice. But I still want to fill in a few gaps within the older models as well. Some more zero's and vintage M Frame's would be welcomed. But mainly deals and opportunities come my way and I have to jump on them.

I do need to complete the last three Slash's. That will be a good day.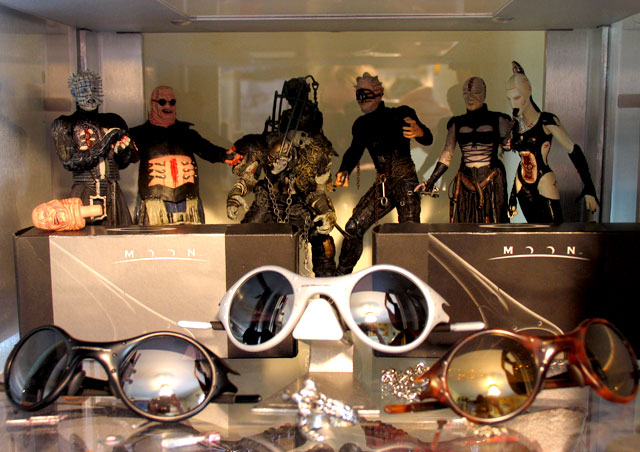 I have several jewels that I've happened upon. My autographed Jim Jannard Shoeones are irreplaceable and remind me of my brush with greatness. However, the greatest is my Splice collection. The Murasaki HI Persimmon Splice is one of the more sought after pairs as is the Matt Kennseth Splice. My goal was to have one of every colorway, so I'm ever grateful to have found these at a time they weren't impossible to find.

My custom engraved Monster Dog with the text Century Club was a nice entry into the 100+ club of glasses.

I also have a prototype of the Flamed Straight Jackets. It is hand painted on a standard black pair and was limited to one of 7 pairs.

I pride my collection on having no pair that I consider dull or without a story. Each one I can recall why I got it or how I happened upon it. But some other items worthy of mention would be: Medusa, Flight Deck Helmet, Splice Collection, Fat Cat Collection, Grip Collection, Flores Gascan w/ Orange Icon as well as the Blue, Purple Cloud Frogskin, Green Camo Half Jacket, Leather Straight Jacket/Square Wire, HI Blue Square Wire and all my Zero's and Sub Zero's.

My Fandango's are the most prized though; who am I kidding.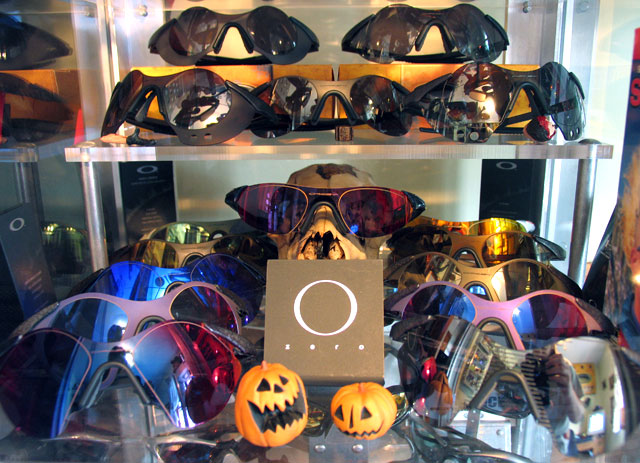 I've been lucky enough to find some official towers and other display items.

Currently I have one Gen 2 single tower for my collections. This houses my Older Jackets, Zeros, Splice Collection and Fat Cat Collection.

A Gen 3 tower holds my Crystal Frames since the window provides nice backlight, Print and Leather Wrapped pairs, and vintage M Frame's and Blade's.

A generic yet well made glass cabinet holds my Thumps, X-Metal (and Mag & O-luminum), and shoes as well as some goggles. It's four feet wide, and allows the rest of my O Matter and Wires to fit all on one shelf too. The bottom holds my miscellaneous pieces that were too big to fit elsewhere. There's room for growth too.

For smaller items, I have a Counter Top that contains a Medusa on a Shadow head with Ruby Overthetops, Tall SI Boots and some Kevlar Soft Vaults. This rests on another Counter Top with a rotary display for my everyday wearable pairs and some crystal frames. I also keep my spare parts in the back compartment.

On my walls, I have 4 Medicine Cabinets. One holds my Eye Shade's and old O Frame goggle. Another holds my Grips, another my old Frogskin's, and the final one has the 6 M Frame Slash's in it. Just waiting for the final three to join.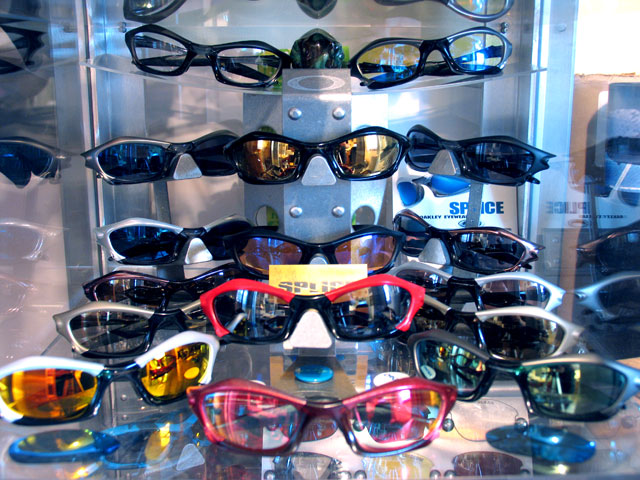 I usually go to Newport Sunglasses downtown. They have all the latest releases and the cool new towers. There's also some hats and backpacks which are nice to try out first.

I also go to Island Sports in Middletown for my Stretchline needs, and there is a definite need.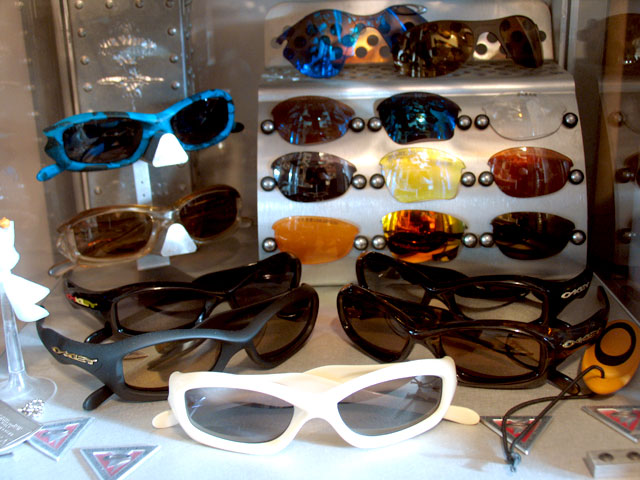 I try to keep many things stock. I know that Zero's and Blades can be swapped, but I dare not ruin the stock configuration of those. I do however have a large custom Splice collection since I've run out of the regular ones to collect and the customs are usually fixed up beater pairs with new lenses and paint jobs.

Three pair are direct lens swaps from another pair, Ruby Clear, Gold Clear and G30 Black. The Ruby Clear one, I also painted the frame to match so it ended up being Crystal Red and a Red FMJ. Four other pairs were custom cut from Half Jacket and M Frame lenses and include Titanium Iridium, Clear, HI Blue and G26. Also no two pair have the same frame combination.

On my Mars, I got a Crater pair, so I bought some Ruby lenses, and installed them. Then I took the Black lenses and put them in my old Leather pair and colored the leather black. I also have an Ice Crater Mars, which I tried to covert into a denim pair with terrible results. I will try again one day.

I swapped the lens and icons from two pair of Fat Cats since I thought the colorways suited the opposite lenses better and ended up with a Cream/Black and Matte Black/Gold pair. A clear pair I happened across became my first attempt at cutting a lens for a frame that doesn't separate. Surprisingly I was able to pull it off, and ended up with a Clear/Ice pair with painted Matte Blue icons. This soon went into a Polished Black pair, and I intend to make a pure Clear/Clear pair with White Icons.

Customizing takes a bit of care and guts, but breathes new life into otherwise ordinary pairs. The bar has been raised by many, and a simple lens swap is no longer worthy of the praise it once received.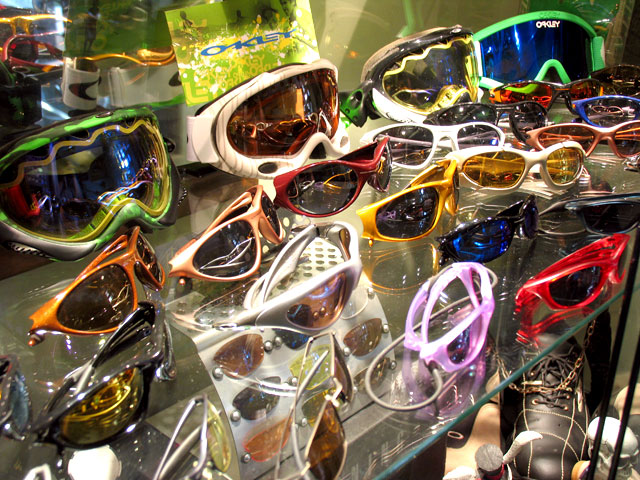 I like to get anything cool and oddball. I try to pick up the limited items that Oakley releases like the Medusa, Flight Deck or Leg Holster. Most of my button-down work shirts are Oakley, as are most of my casual T's and of course all my shoes. The SI Boots and Shoes are bar-none the best shoes I have ever purchased and well worth the money. I tried to save some cash once by going to Wal-Mart, and those shoes fell apart within the week. No joke. Most of my shoes are for display like the Jim Jannard Autographed Yellow Kevlar Shoeones, and the Bow Tye's I used for my wedding.

I have a few watches, but those are just too expensive to collect. I bought a Time Bomb in '03 and still wear it daily.

I foresaw grips being the next hot item, so I took the time to collect those while they weren't too expensive. Luckily I was able to get one of each pair and lay that quest to rest. I also have a moderate print collection consisting mostly of catalogues and display cards.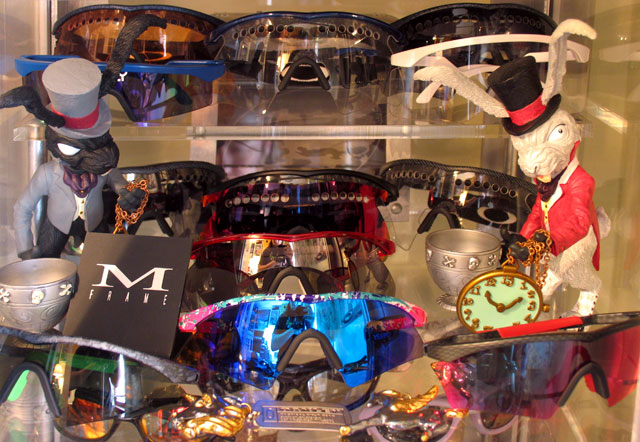 I collect comics, mostly from the X-men and related spin-offs, carnival glass, action figures and tattoos. I really don't have time or money for much else. I like to get outside and also to make movies in the spare time I once had. I love chocolate and horror movies and metal music.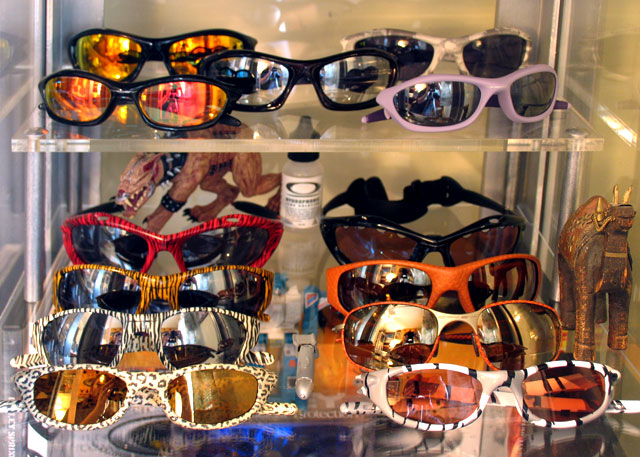 Get a side job. I've never taken money out of my main job to put towards anything Oakley and that's how I've managed. Treat it like any other hobby and don't let it consume you or get in the way of other important things. Also get out to the stores and support the people who have to make a living. eBay is good for vintage, but to be a true Oakley fan, you need to keep the company alive.
Everyone that comes over marvels at the collection for a few minutes and then goes away. Most people know the obsession, but they can take it or leave it. I did make sure to outfit my family and in-laws with a pair.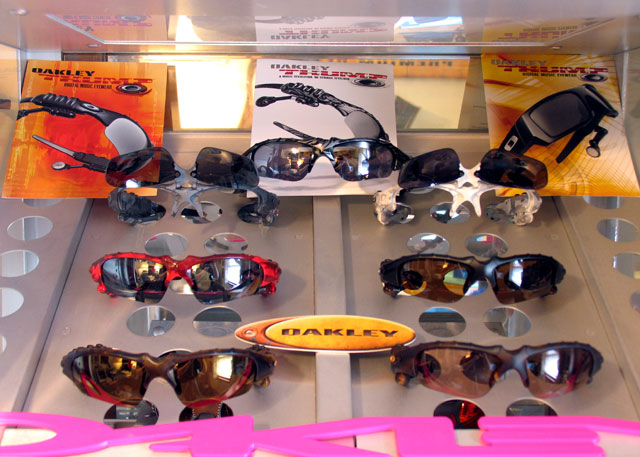 Meeting up with the members I've met here has been a great experience. My trip out west to HQ was awesome, and I got to see some things most never get to. I was able to be the first person to buy a New RazorBlade at the Irvine O Store and eat some awesome pizza, then head to HQ and see the inner workings of the company. I do meet up with a few local members at the vault from time to time, which is always a good time. Here's to many more adventures.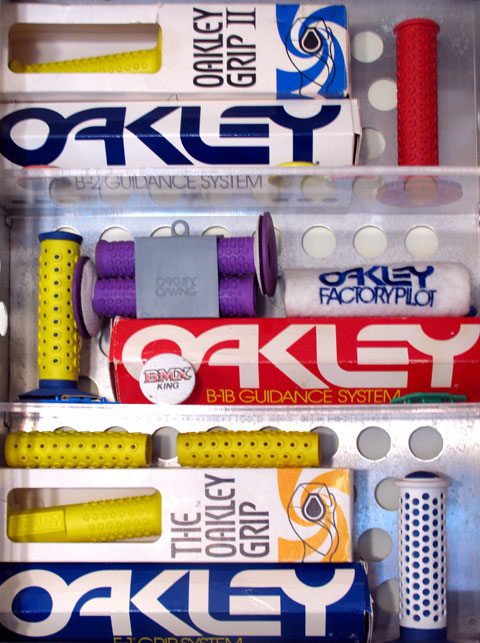 A thank you to everyone out there who had found this site beneficial. Many hours have been put into it, so it's nice to see so many enjoying it. I'm hoping to see the site grow over the years and become something great.