Collectors Spotlight - March 2007 - warwagon

Age: 44 / Perth, Western Australia
warwagon: Mike Bahr
---
Going on 4-5 years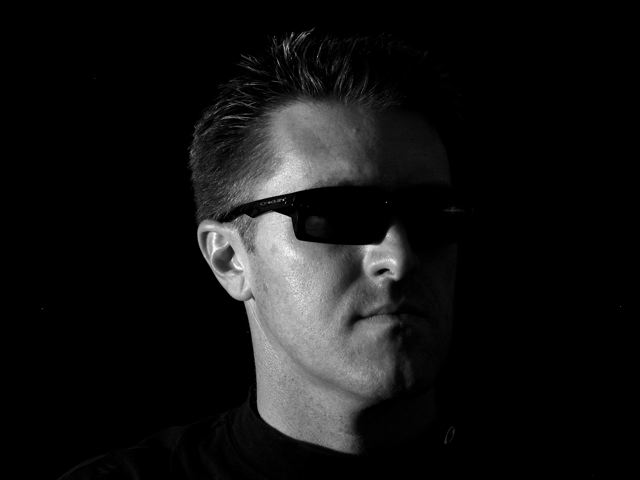 I was a teenager when I purchased my first pair of Oakley's. It was a pair of Frogskins in a brownish color (like I paid attention back then.) After losing them, or was it breaking them. Both…I broke them, then lost them. After the Frogskins I moved onto a pair of blue and white Blades which carried me through into my early 20's. After losing them it was a whole bunch of Bolle, Ray Bans, and Maui Jims. This went on for the next 12-13 years. It was around 1998 that I became interested in Oakley apparel. I had bought a few items and developed a real liking for their product. Over the next few years, I kept leaning towards what they had over other brands. In 2001, I finally bought another pair of Oakley glasses. A Polished Black/G30 M-Frame, which was mainly for golf. I also started learning more about what they had on offer and in 2002 the passion really took hold. I just wanted to have more of their products. Not so much the glasses, but the apparel, shoes, bags and all the other little things they made. They gave me a sense of individuality in a market that was saturated with the big surf brands such as Quiksilver, Billabong, and Rip Curl. Oakley allowed me to be different and I loved that. I could walk down the street and be wearing something that nobody else was. In 2003, I lived in the United States for a year and my choices became even greater for Oakley. I went to my first O-Store at the Mall of America that year which fanned the flames even further. In July of 2003, I was visiting a friend in California. He noticed my Oakley shirt and asked if I was into Oakley. I told him that I loved their stuff and next thing I knew we were on our way to the Oakley Headquarters. I had heard of this place with its amazing design and had always wanted to visit. The fact that my mate was working only one mile away made it so much easier. So much happened on that first visit, if I had been a fanatic before, it is safe to say I was now completely obsessed! From then on I lived and breathed Oakley. If I couldn't buy an Oakley product I just didn't buy anything. The number of Oakley products I had by the end of 2003 was about 50-60 pieces, accounting for a full range of products including one watch and three pairs of glasses. When I returned to Australia in 2004, I showed no signs of slowing down. Then came the O-Review, I found this place and it expanded my knowledge, and what I now define as my COLLECTION. I view a collection as not about something that just sits in a cupboard, it is a passion and a lifestyle and that is where I see my collection. I wear and use what I have, sure there are items that look good just sitting there but they give me a focal point to the larger collection that I have now accumulated, Oakley is more than just a sunglasses company. My collection has grown from 50+ items in early 2004 to over 180 items today and this is a reflection of everything Oakley.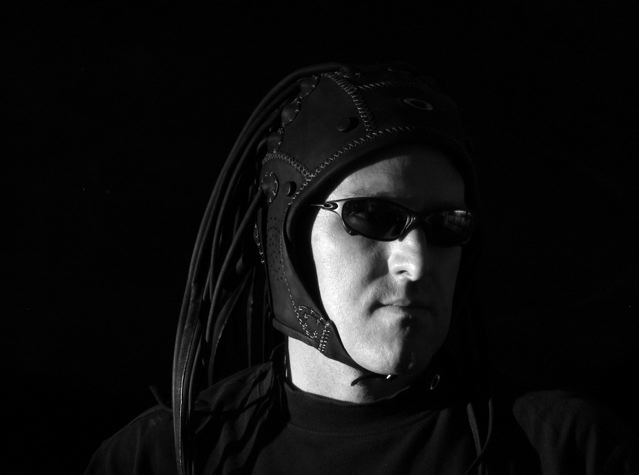 Oakley Frogskins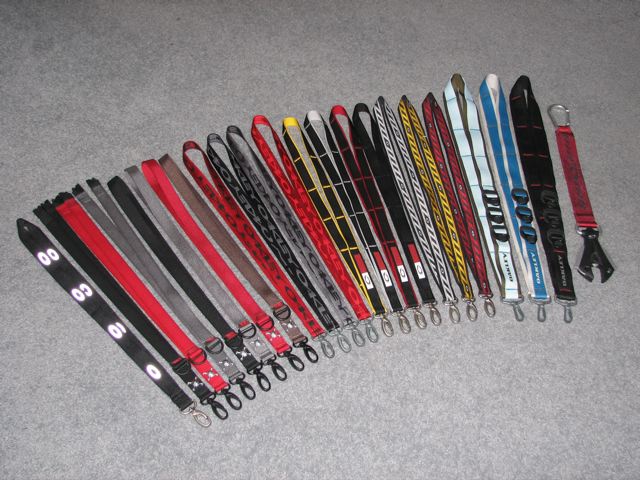 Selling my first pair of Juliet's - Plasma/Ice. I can't fathom why, I just did.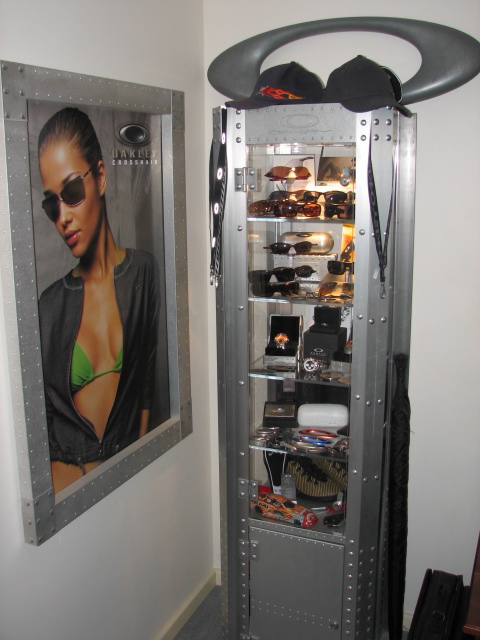 Time Tank - Titanium Bracelet/Silver Face - well it was! I've been lucky enough to get one recently since first writing this. So what's next?
Well I now kinda have most of the stuff I have ever really desired, a Double wide would still be sensational, but overall I will just be adding small items here an there.
But the next big thing for me is having a baby with my wife, then I can go spend up for my kid.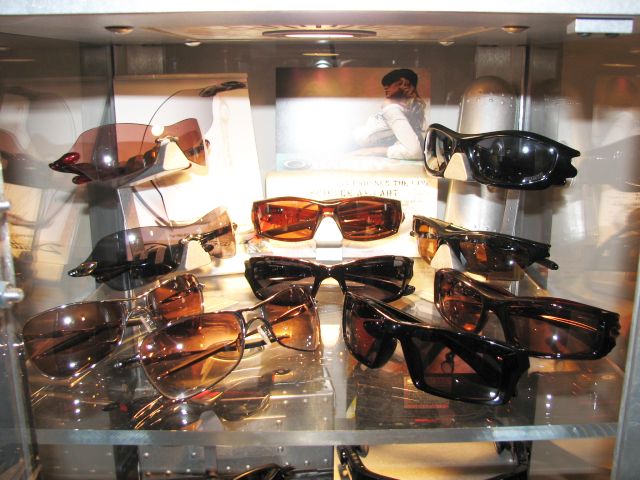 This question is a difficult one. Everything is as important as the next. But if I must define one piece as my "jewel" it would have to be my Medusa. Ever since my obsession took hold it has been a piece I truly desired for no other reason than it was just so darn out there and definitive of Oakley. The price was always a factor for me, but this past year I was able to get one at a real nice price. So, after waiting for what seemed forever, I now have one. Recently I also gained a Shadow Bob Head for a display and together they form the "jewel" of my collection. That's not to say the new Time Tank doesn't give it some competition. Oh, and the Cannon Red Timebomb deserves an honourable mention.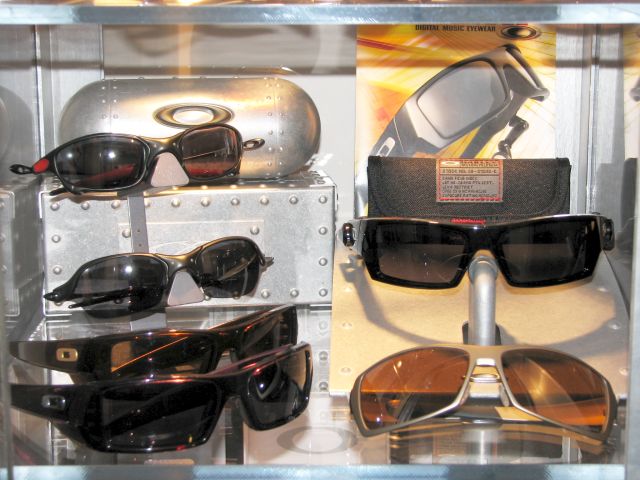 My collection is mainly displayed in my office in a Single Mega Tower. The walls feature Oakley poster frames and my cupboards are filled with apparel. My cabinet does take pride of place in the office, always attracting admiration and comments.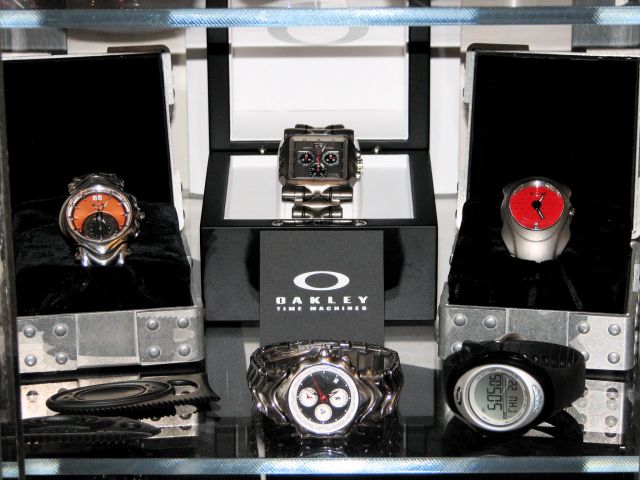 I can't pass an O-Store, but my local Golf retailer " The Golf Box" here in Perth has been awesome. I've known the owner Mike for over fifteen years and he has always given me generous discounts. Can't beat that.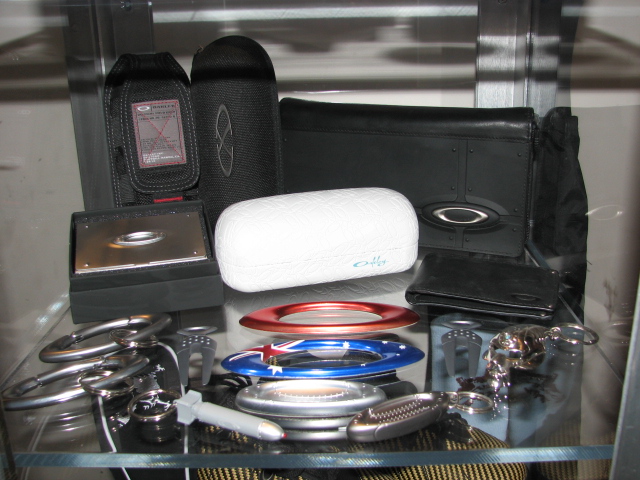 Plainly no. I don't see the point. I like the way Oakley does things and I just like to keep things original. That's not to say I wouldn't try it but only to the point of say some lens swapping.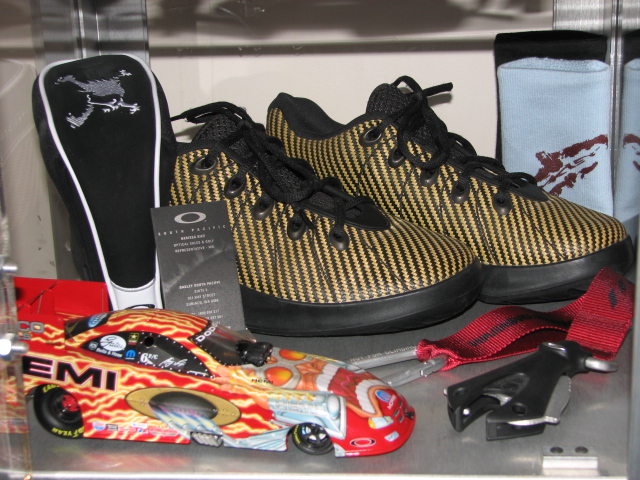 In addition to sunglasses, I'm essentially into everything that they do. You could say I collect Oakley as a whole. One area I have focused on lately is the lanyard line. (why….why not!) At this point I'm only 1 lanyard shy of a complete current collection. (anyone seen a D-ring Dark Fatigue lying around). I'll add the new release ones when they hit my shores. I am also extremely keen on display items being fortunate enough to have acquired two cabinets and some other rare display items. I have also found a fondness for Oakley watches and might have to stop where I'm at, or face divorce...lol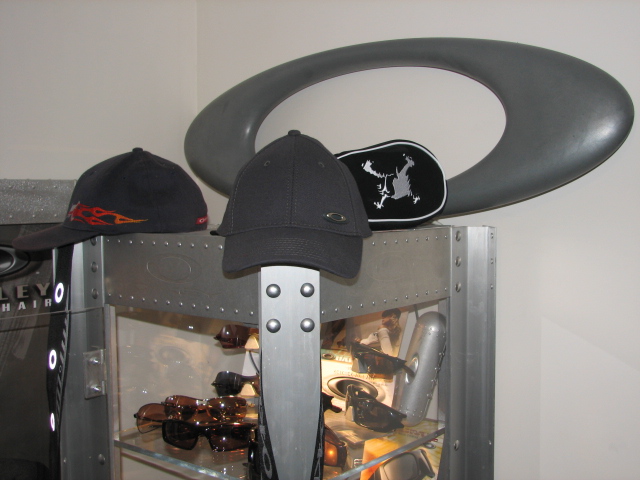 I collect Hard Rock Cafe shot glasses. I have been collecting these for about twelve years and currently own forty-five glasses. Twenty-five of those have been obtained personally by visiting the restaurant. I also collect autographs of sports and film stars. I have acquired some nice signatures from the likes of Michael Schumacher and other F1 drivers, Kylie Minogue, Shania Twain, various Star Trek cast members, , Natalie Portman, Garth Brooks, Kevin Smith, and many others. I'm also a DVD-lover. My collection currently contains over 300 of them.
Buy what you like and watch your wallet! Just because another member has bought a particular pair you don't have to race out a get it, use the reviews first and see what others have to say. That way I feel you will end up making the right choices for your collection or use. And remember this is not a "Contest"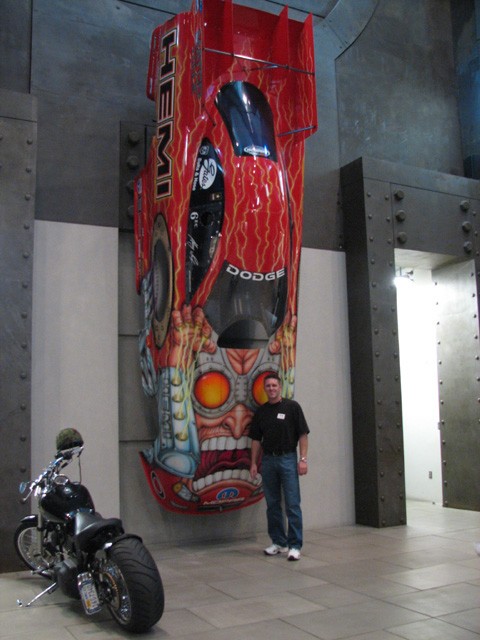 They think I'm nuts…. "Hey, it's Mr. Oakley" or "Do you work for Oakley?" I take it all in my stride. My friends know how crazy I am for the "O" and they make fun of it, but I don't mind. In many cases they are starting to see that the product truly is that good. Heck even the wife wears Oakley sunglasses and apparel on a daily basis, even down to her handbag and watch. I think she just realized, "If I can't beat him I may as well join him". Damn, I love that woman.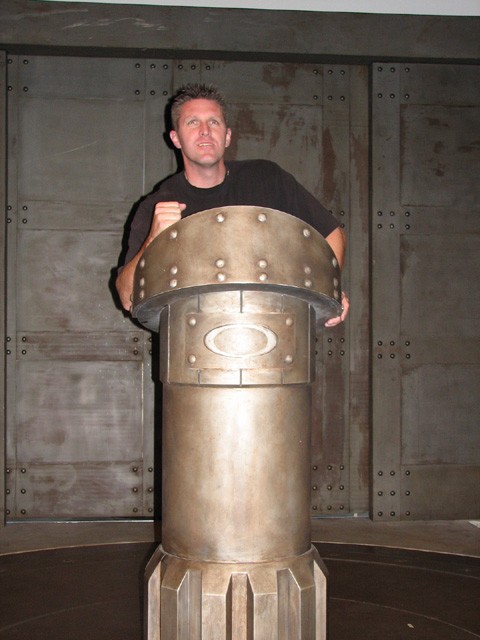 My most outstanding Oakley memory is my visit to Oakley HQ in January of 2006. A friend in California arranged a private tour for myself and my wife Ainslie. We were able to see things that I had only dreamt about. Our tour guide was by an employee who has worked there for over fifteen years in a senior position; he shared a heap of information and some great stories of the inner workings of Oakley. HQ has left a lasting impression on me.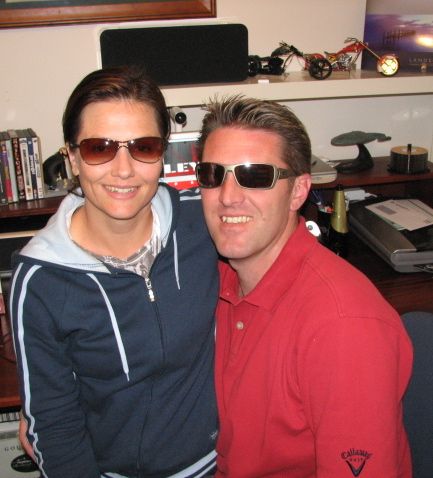 The O-review is now an integral part of my daily life. It is a place to share a common love and to make friends. Meeting with a local member (Andrew Ford aka FORD) has created a great friendship and it's great to catch up with him and talk face to face about Oakley and life. I also really enjoy having chats with other members around the world. You guys know who you are and someday I hope to meet each one of you in person. I have met Todd (aka Tick) and that was my first and currently only overseas meeting. I must say Todd is as funny in person as he is on the Review. Over the coming years I hope to share more with members and increase our ever-growing Oakley family. It's been said before and it won't be the last time, but Dann has created an amazing environment, I'm very proud to say I'm a part of it.