Collectors Spotlight - February 2007 - O-Whores

Age: 26 / Maui, Hawaii
O-Whores: Thread Killers
---
Yukio: Almost 6 years; Dawn: Just under a year and a half
Yukio: When I say that I've been collecting Oakley for about 6 years, it's kind of misleading. I bought my first pair in February of 2002, and didn't get my second pair till about a year or two later. But that first pair is when I actually discovered Oakley (quite honestly, until then I don't think I even knew they existed).
I was looking through our island's only "real mall" for the sunglasses used in X-Men; a result of my other hobby. When trying on the Juliet, I was rather unimpressed at the time, feeling as if they were too big for my face. The OPD pulled out a Titanium/Ice Penny and I was instantly in love. But my true passion for collecting wasn't born until I actually fell in love.
When I met Dawn in 2005, I had maybe eight or nine pairs including an Rx Split Thread and my son's Half Pint. She was not just supportive of this hobby, but also encouraging. However, Dawn herself had no real hobbies or passions - not a lot of her own possessions because she always put other people before her. I wanted to find something she could enjoy as well. It just so happened that in the first few months of our relationship, Dawn had developed a growing respect for Oakley because of their outstanding optics. She had borrowed several of my pairs over that time, always commenting on how they were so much clearer than other sunglasses she'd used, and how they really stepped up the game from the old huge and very loud 80s Technicolor pairs they originally released. I decided that she needed to have a pair that was truly hers.

Dawn: That pretty much sums up the starting ground for me. The lack of having things wasn't truly unselfish, it also had a lot to do with the fact that I liked being very mobile and being able to pack up my life in an instant if I wanted or needed to. Once Yukio and I started dating, for the first time in my life and felt very grounded and more than happy with my geographical location. I too shared the desire to have something tangible to call my own. We went to our local OPD several times trying to find something that would be the perfect first pair; I tried on the Ducati Zero, turned to Yukio and remember the first thing he said "Damn you look hot". That's not what sold me though; I walked over to the mirror and was just overly impressed by the look, how light they were and again the optics. Yukio purchased my first pair of Oakley's in September of 2005.

Yukio: This is about when my true passion for the hobby began. I was already impressed with Oakley's unique designs, incredible optics and vast variety, but having someone to share this obsession with really made it all the more worthwhile. It was an equal love for the two of us and after a while my pairs and Dawn's pairs became our pairs.

Dawn: And when you have two people that are crazily in love with each other and have the same addiction, watch out...we have a combined income and know how to use it.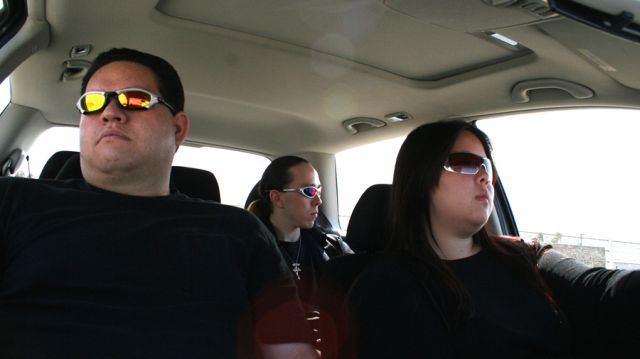 Refer to "How did you get into collecting Oakley"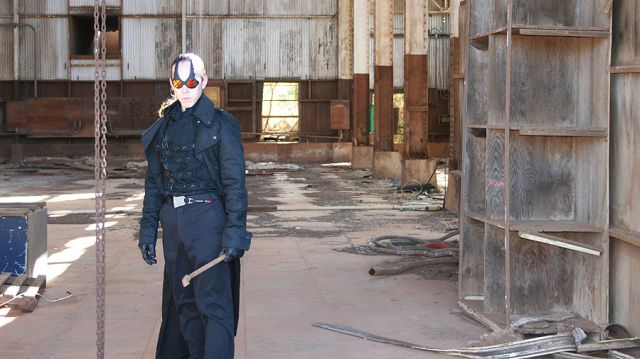 Dawn: Hands down…not taking out a loan to get the Carbon/+Red Iridium Penny from total_o.

Yukio: That, or not keeping all our receipts for every Oakley purchase.

Dawn: Yeah we're pretty neurotic about those kinds of things. But I'd trade all our receipts for the Carbon Penny any day.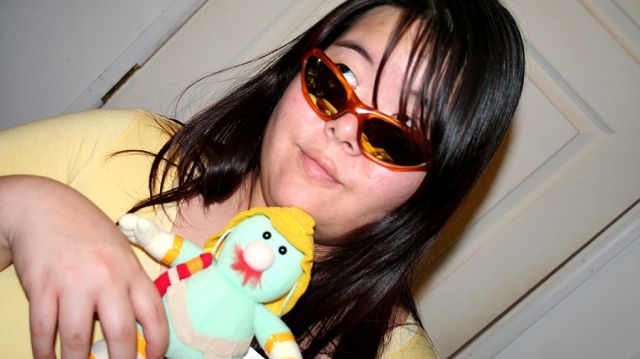 Dawn: Something impressive, at least we think so.

Yukio: We won't say what, but we do have a few tricks up our sleeve. ::grin::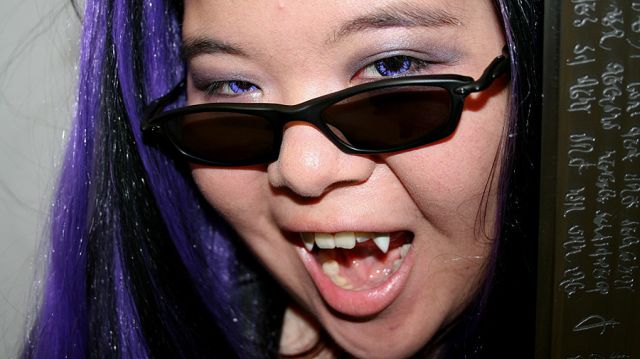 Yukio: ::groan:: You guys do realize that this is an impossible question? But if I had to pick one item as our collection stands now it would have to be my very first pair, the Titanium/Ice Penny, because it's where it all started. Otherwise, it would probably be the two pairs of Ruby Clear Why 3s that we plan to wear at our wedding.

Dawn: I agree, the Ruby Clear Why 3s for sentimental reasons. It symbolizes not only the start of our new life together, but how our union is the reason our collection exists.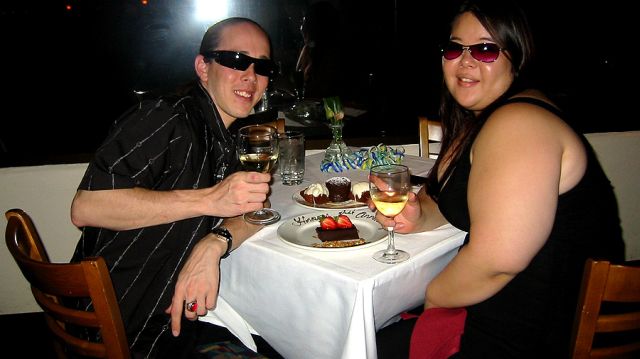 Dawn: We're very fortunate to have obtained quite a few cases and towers. We've got the Stretch Line tower, Women's tower, a Thump tower and a couple Medicine Cabinets.

Yukio: I was given quite a generous birthday gift of 25 1-Unit Displays last year. They, along with a couple Plexiglas stands help provide a bit of "class" to our presentation.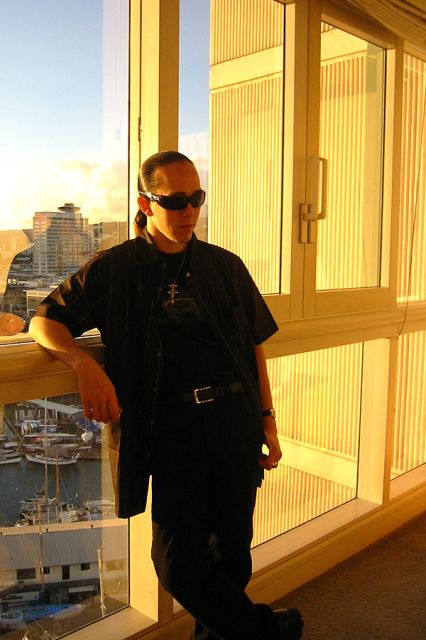 Dawn: Yep! Got two of them actually; one in Maui and one in Oahu. Neither of them are actual Oakley stores, but I think most of us tend to love the OPDs much more.

Yukio: They're both extremely helpful, pleasant and know how to provide top notch customer service to both long-time and single purchase customers.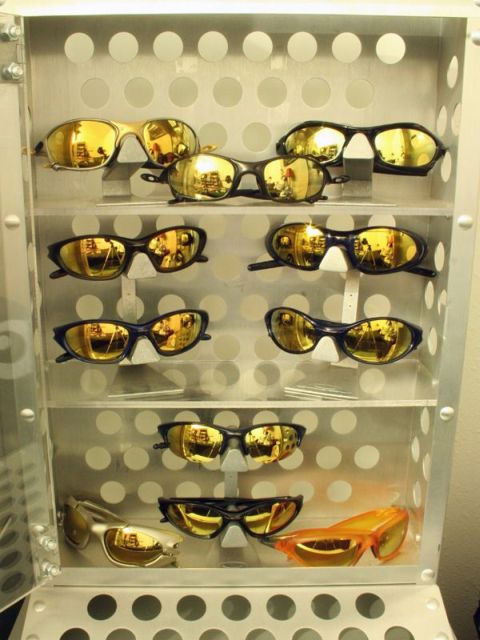 Dawn: Short answer...yes.

Yukio: That's another one of the great things about this brand…the ability to take an awesome selection of eyewear and design a pair that's right for you. We've only recently started customizing and are actually working on a series of projects around customization. One in particular that we're pretty proud of…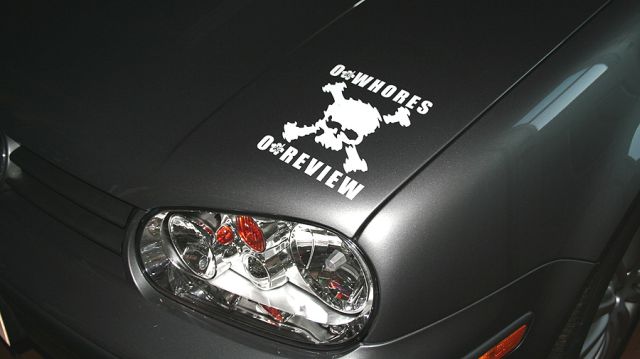 Dawn: Do you all really have time for this? *laugh*

Yukio: I'm actually trying to finish off the entire lanyard collection (just about there!). But we also collect display items like most of you, as well as apparel and accessories – I have many t-shirts, a couple dress shirts, a vintage jacket, two shorts and between us we have 5 bags and 14 pieces of headgear…plus a bunch of other miscellaneous items. Right now I think our most favorite non-eyewear piece is our Stretch Line tower.

Dawn: That might not seem like much, but truly if you have something that's Oakley branded we'll probably take it.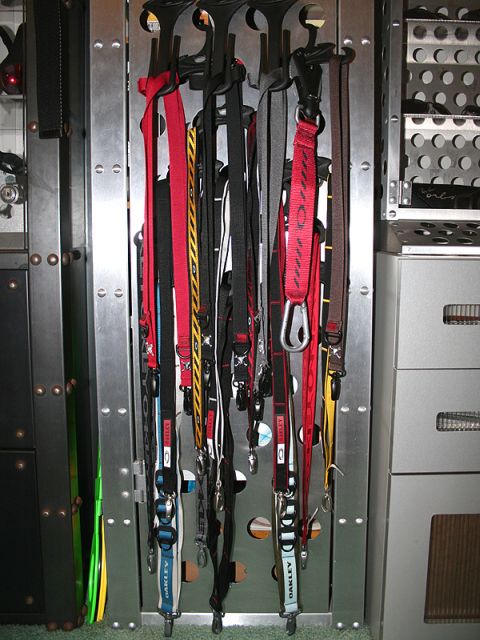 Dawn: Like I said before, I really didn't have anything prior to Oakley that I was particularly drawn to. I used to "collect" CDs, but after I had about 200 of them stolen and had to start rebuilding those pieces, that kind of went out the window for a few years (1999-2005). But recently when there's spare cash I pick a CD here and there; mostly things that I lost.

Yukio: You liar! What about Flappy and the others?

Dawn: Oh yeah…PENGUINS! I'm obsessed with them and can't wait till I can find a way to have my own zoo of them. And maybe a few platypus. I have a lot of stuffed animal penguins, bath toys, X-mass ornaments; Flappy is our laundry hamper, Squishy is our trash can, and I have a Care Bear Cozy Heart Penguin that Yukio won for me at last year's fair…pretty much anytime someone sees something penguin they'll buy it for me. Can't wait till Happy Feet comes to DVD!

Yukio: As for me…let's see… There's my 1,000+ DVDs, a few die cast movie vehicles (and a few select others), McFarlane/Spawn action figures and a few replica props. A lot of my collections and hobbies can probably be directly linked to my passion for movies. I love watching and creating.

Dawn: He likes to watch. ; )

Dawn & Yukio: And our cars.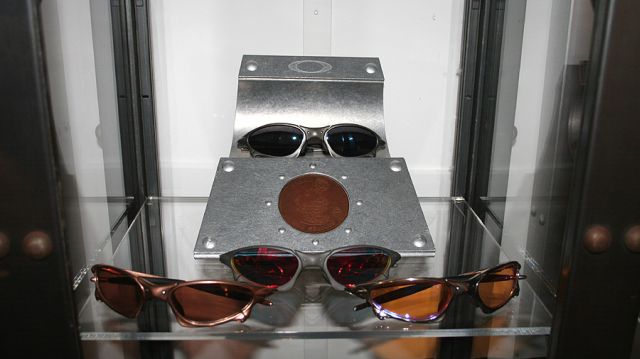 Dawn: Honestly, stick to what I say… Do what makes you happy; if it feels right, do it. But don't forget to pay your taxes.

Yukio: It's a personal collection. By definition that means "what's interesting to you". Don't look at other peoples collections and feel like you're in a competition or that you have something to prove.

Dawn: Yeah, like our friend said…"It's not Oakley - Race to the Sun"

Yukio: Treat it like you would any other passion.

Dawn: And know your product. Do your own research - learn as much as you can from the many different resources out there. You don't want to get duped.

Yukio: And most of all have fun!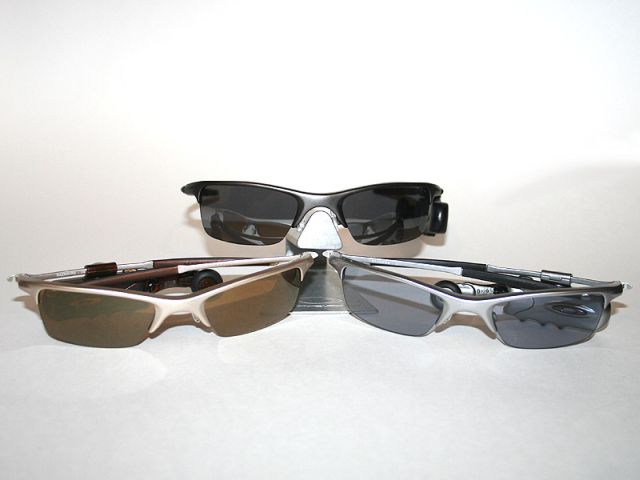 Dawn: Funny that this question would be asked. Last November my co-worker made the perfect example…one day she asked how many pairs we had. After hearing my response she put her elbows on her desk and face in her hands, and said "I find this all very fascinating, tell me more about this…this Oakley collection". But all in all, she thinks we're nuts, like most people and ended the conversation with "They're just sunglasses! What could you possibly do with 80 pairs of sunglasses!?"

Yukio: We get a lot of mixed comments. My boss groans in mock disgust every time we have to fly to Oahu because she knows that the first thing on my mind is when can I go to the Oakley store?

Dawn: Mind you she's had to endure an Oakley outing with us…twice in less than 24 hours.

Yukio: Some people find it mildly interesting, others think we're nuts for spending so much money on "sunglasses".

Dawn: Then there's Cullen…O-Review member KAMI X. He's been my friend since Kindergarten, I met Yukio through him. And we proudly say that his collection is growing all the time.

Yukio: Although he also thought we were nuts when we first started.

Dawn: Yeah, now the both of them blame ME for the addiction.

Yukio: But he's at around 20 pairs right now, within the span of about a year. And I can pretty confidently say that he would have more if the poor guy could wear contacts.

Dawn: He's having to throw down about 1.5-2 times the amount on each of his pairs to get them in Rx, and it also limits his scope. No pun intended.

Yukio: But overall people are supportive, because they understand what it means to us.

Dawn: Especially when I call them out on their own addictions.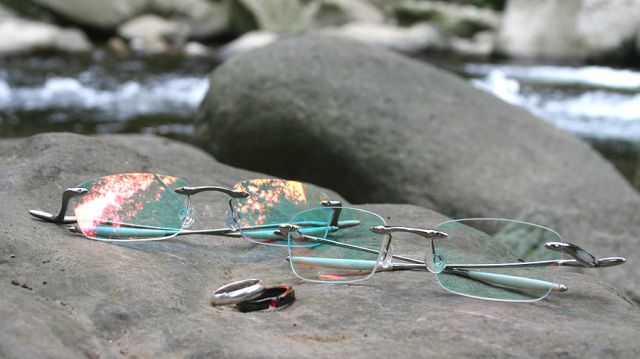 Dawn: Our 1 year anniversary. Most of you saw the pictures; we picked our outfits for our dinner based on pairs that matched. I think we looked damn sexy if you ask me. Our story is why I'm so attached to our anniversary and anything that revolves around us, but that's privileged information for those of you that get wedding invitations.

Yukio: That memory has yet to be written. The event is already planned it just has to happen. But don't worry you'll all hear about it and see the pictures.

Dawn: You always have to out do me don't you?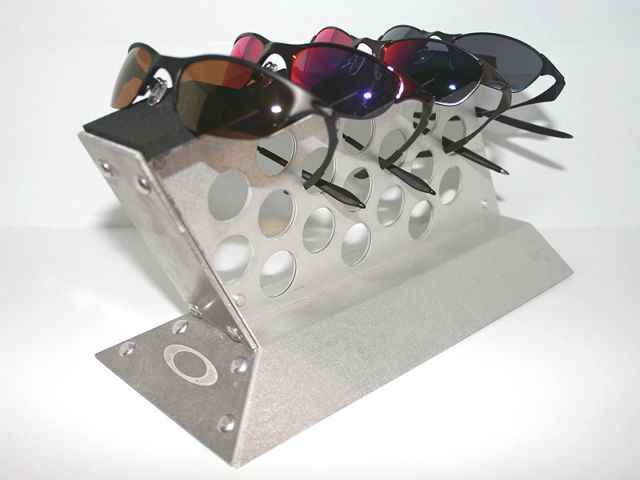 Dawn: DANN'S THE MAN!

Yukio: Bong ain't wrong.
In all seriousness though, we'd like to thank Dann and Rick for presenting us with this humbling honor. And giving us a chance to tell our story to a captive audience. Guys, you can release them from their shackles now.

Dawn: And thanks to ALL of you out there in O-Review land. You've all made this a second home for us. We love sharing and helping where we can, and have definitely received it back ten fold.

Yukio: A lot of you have said so many nice things about us in the forum and messages, and it just furthers the feeling that we're not only welcome here, but that we belong with all of you. It really puts a huge a smile on our face when we read those things.

Dawn: Plus all of you who have also looked out for us with words of guidance, always appreciated.

So, for those of you that made it this far; hope you enjoyed reading more about us. Can't wait to see your Spotlight soon!