//if ( ($_SERVER["REQUEST_URI"] == "/" || $_SERVER["REQUEST_URI"] == "/index.php") ) { //include 'inc/awards.php'; //} else { ?>

// } ?>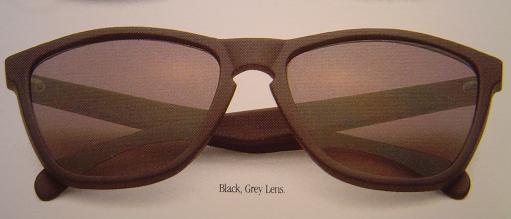 randy scott -
Sometime way back in the mid to late 1980's I obtained a pair of Oakley Frogskin sunglasses (black lenses/black frame/white temples; see attached pics).

I don't remember ever purchasing these at a retail outlet, but recall I may have seen a small classified type ad in the back of a magazine or newspaper to sign up to receive a Free pair of Oakley Frogskins and only pay shipping and handling.

In the past few years, as the vintage market for all those things old and dear to us baby boomers (I was born in 1958) have emerged with relative monetary and sentimental value, I've been conducting internet searches periodically to find out more information about this model and style. After exhaustive searches through many, many websites, I've never been able to exactly find and pinpoint my exact model and style.

I'm hoping to obtain some historical information on this model, style, year produced, collectible value, monetary value, etc. and any other information you can provide me relating to my exact model of Gen 1 Frogskins.

I can describe them as generously worn back in the late 80's, a few minor scratches on the outside of the lens and imprinted with the Oakley Logo prominently embossed on the outside of each temple and on the inside of the right side temple there is a raised molded Oakley Logo. For the past 25 or so years they have been kept in an eyeglass case in my memory box stored in my closet. And I've just begun to bring them out and wear them again.

Any help you can provide me in this matter will be greatly appreciated.